iTivity™ User Guide
Welcome to iTivity


Thank you for choosing iTivity, a powerful Internet-based solution for system administration and remote support.
At Tridia, our mission is to always exceed our customers' expectations by providing the absolute best software products backed by outstanding technical support and customer service. We take this mission very seriously and invite you to send your comments, compliments, or complaints to service@tridia.com.
What is iTivity?
iTivity is a software product that allows system administrators to deploy remote administration and viewing tools either within an intranet or safely across firewalls over the Internet. Deployment is simple; you can create custom installation files using a web-based wizard, and you can provide for one-click installation of end-user components from an e-mail or web page.
The iTivity solution is extremely economical because of its flexible licensing mechanism. The iAgent software that allows computers to be viewed or controlled remotely is distributed free of charge. iAgents can be downloaded and installed to an unlimited number of computers. You pay only for the number of connections that you need at a given time.
iTivity Features
iTivity provides administrators and support engineers with tools to:
<![if !supportLists]>· <![endif]>View and remotely control Windows and UNIX/Linux computers
<![if !supportLists]>· <![endif]>Transfer files between remote computers
<![if !supportLists]>· <![endif]>Manage help desk requests
<![if !supportLists]>· <![endif]>Chat directly with users
<![if !supportLists]>· <![endif]>Control remote systems through TELNET
All connections are encrypted and make use of configurable authentication schemes including NTLM, LDAP or simple local password.
iTivity components
Figure 1 illustrates the major components of iTivity in a simple configuration used for remote support.
<![if !vml]>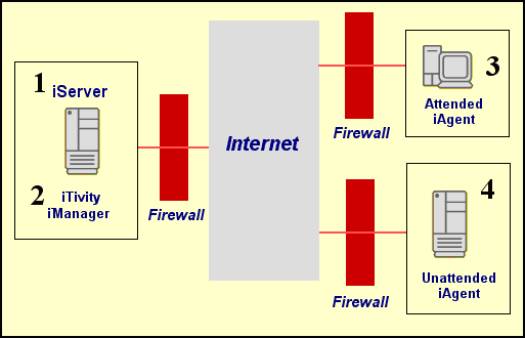 <![endif]>
Figure 1: iTivity Components in a Remote Support Scenario
<![if !supportLists]>1. <![endif]>The iServer is the main engine of iTivity. The iServer creates and coordinates secure connections using 2048-bit encryption. The iServer software is available in Windows and Linux versions.
<![if !supportLists]>2. <![endif]>The iTivity iManager provides the interface for administrators and support personnel to view and manage remote computers and servers. The iTivity iManager can be installed on the same computer as the iServer software or on another computer, either within or outside a firewall.
<![if !supportLists]>3. <![endif]>The Attended iAgent allows users of Windows computers to connect to an iServer and request support. The support request is then displayed in the iTivity iManager. The Attended iAgent also allows users to chat with an administrator who responds to their help request.
<![if !supportLists]>4. <![endif]>The Unattended iAgent provides for remote viewing and administration of Windows or UNIX/Linux systems. This iAgent provides a persistent, "always-on" connection. If the connection is lost, the iAgent automatically attempts to reconnect.
Using iTivity Securely Over the Internet
iTivity makes it possible to safely view and control remote computers behind firewalls.
Since the iServer only accepts secure (encrypted) connections through a user-configurable port, it can be placed safely in front of a firewall, in the network area often called a DMZ (Demilitarized Zone).
Alternately, the iServer can be placed behind a firewall. In this case, the administrator would need to open a single "pinhole" to allow iServer connections. Or, the administrator can configure the iServer to use port 443 (HTTP), which in most firewalls allows traffic by default. In this case, the firewall does not need to be reconfigured.
The iServer can accept connections from any iAgent computer behind the firewall, as long as the firewall allows outgoing TCP/IP connections.
Users running iTivity iManager, located inside or outside your network, can connect to the iServer, which in turn allows them to view its connected agents.
Figure 2 illustrates one typical usage scenario. An administrator with iTivity iManager installed on a laptop or home PC (1) uses the iServer to remotely view and control any number of Windows computers inside the firewall (2).
<![if !vml]>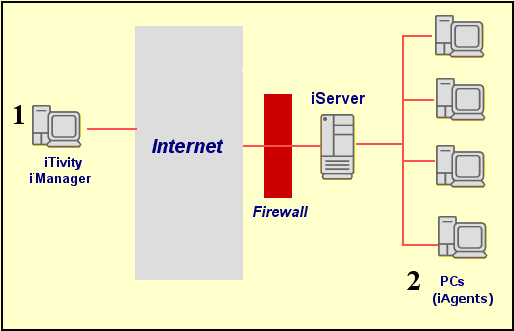 <![endif]>
Figure2: iTivity Remote Support Example
Deploying the iTivity iAgents
Administrators can easily deploy iTivity iAgents to as many computers as needed. Customization is easy.
The administrator can place the iAgent distribution files on a web server, then send an e-mail containing a link for downloading the iAgent. The user receives the e-mail, clicks on the link, and the iAgent is downloaded and installed, safely and securely.
The administrator can configure how the iAgent will run once installed by setting configuration parameters in the HTML page that is used for downloading. This strategy allows for a uniform distribution policy. Exceptions can be made simply by copying and renaming the HTML file, then changing the configuration settings it contains. A new customized iAgent can then be deployed by advertising the URL to the desired users.
The iAgents can also be installed via distribution EXE files downloaded from the Tridia web site. You can also build custom installation files for your iTivity modules using a simple wizard interface.
For More Information
For instructions on
<![if !supportLists]>· <![endif]>Installing the iAgents on Windows, see Chapter 5.
<![if !supportLists]>· <![endif]>Installing the Unattended iAgent on UNIX/Linux, see Chapter 8.
<![if !supportLists]>· <![endif]>Building Custom Installers, see Appendix B.
For additional information on planning and deploying iTivity, especially in enterprise environments, see the iTivity Deployment Guide.
iTivity Licensing and Connections
This section contains information about the iTivity licensing. This information applies to the licensing of the iServer, as explained in Sections 2.4 (Windows) and 2.10 (Linux).
iTivity licensing is based on an allowed number of iServer connections ("concurrent connections"). A licensed connection is consumed whenever an iManager connects to an iAgent for viewing or remote control. You can install any number of iManagers and iAgents. Your licensed connections are only consumed while an active connection exists between an iManager and iAgent.
Note: You can also license iAgents separately from the iServer, as described in sections 6.3.1 and 7.1.3. When an iAgent is licensed separately, its connection to an iServer does not count as one of the connections allowed by the iServer license. Contact Tridia for more information on this option.
The User Guide has been organized by product module and function for easy use.
<![if !supportLists]>· <![endif]>Chapter 1, System Administration with iTivity, provides technical information to help administrators understand, plan, and deploy the iTivity software.
<![if !supportLists]>· <![endif]>Chapter 2, Installing and Running the iServer, provides complete information on the iServer component.
<![if !supportLists]>· <![endif]>Chapter 3, Installing and Running the iTivity iManager, contains setup and quick start information on the iManager component.
<![if !supportLists]>· <![endif]>Chapter 4, Using the iTivity iManager, provides complete instructions on all program menus and options.
<![if !supportLists]>· <![endif]>Chapter 5, Installing the iTivity iAgents on Windows, explains how to install and configure the Attended iAgent and Unattended iAgent on Windows.
<![if !supportLists]>· <![endif]>Chapter 6, Using the Attended iAgent on Windows, explains the iAgent features available to end-users for getting help.
<![if !supportLists]>· <![endif]>Chapter 7, Using the Unattended iAgent on Windows, explains the menu options available on the computer where the Unattended iAgent is installed.
<![if !supportLists]>· <![endif]>Chapter 8, Installing and Running the Unattended iAgent on UNIX/Linux, explains how to deploy, license and run the Unattended iAgent and related software on Linux and UNIX systems.
<![if !supportLists]>· <![endif]>Appendix A, Using Silent Install for Automated Installation, explains how to automate the installation of iTivity modules on Windows systems.
<![if !supportLists]>· <![endif]>Appendix B, Creating Custom Installers, explains how to create customized installation files for the iTivity modules on the Tridia support web site.
A Glossary and Index are also included.
The iTivity Deployment Guide
The iTivity Deployment Guide is intended for technical staff who will plan, install and configure the iTivity system. This guide includes details on system requirements, configuration recommendations and troubleshooting tips.
While some of the information applies to any iTivity implementation, the focus of this guide is on large, enterprise-scale deployments.
The Release Notes
The "Readme" files containing the Release Notes for this version are located under C:\Program Files\iTivity\iManager\README.txt, C:\Program Files\iTivity\iServer\README.txt, C:\Program Files\iTivity\Attended iAgent\README.txt and C:\Program Files\iTivity\Unattended iAgent\README.txt (on Windows computers). These Release Notes are very important, since they contain specific information concerning the current release of this software.
The information contained in the Release Notes is typically not found in the User Guide. In many cases, the Release Notes information supersedes the information in the User Guide. Therefore, it is highly recommended that you read the Release Notes completely before installing or using iTivity.
If you have a question or problem with the iTivity product, we encourage you to first review the User Guide, online help, and the www.tridia.com Web site for your solution.
If you still cannot find an answer, please contact Tridia directly for product support.
<![if !supportLists]>· <![endif]>Web site:  support.tridia.com
<![if !supportLists]>s <![endif]>Telephone:  770-428-5000
<![if !supportLists]>s <![endif]>Toll free:  800-582-9337
<![if !supportLists]>s <![endif]>Fax: 770-428-5009
<![if !supportEmptyParas]> <![endif]>

Copyright © 2004 - 2015, Tridia Corporation
Copyright and License Information